The movie Philadelphia was screened on the 30th August. The classes present for this activity were IIIPSEco, IIIPSEng and IIIEPS. The reason as to which this movie was shown was to increase awareness among the students on the long since dreaded disease AIDS.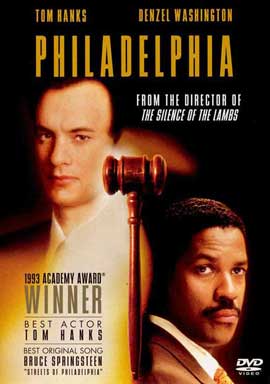 Directed by Jonathan Demme, the movie is set in 1970 United States. The script of the movie revolves around a homosexual man Andrew Beckett (Tom Hanks) who is a lawyer working in a leading Philadelphia law firm. Andrew is a quick learner, a hard worker and potentially one of the senior partners of the firm. The viewer is initially given the impression of a successful lawyer who is quickly working his way up in a leading law firm. He is young, systematic and seemingly sophisticated- the kind who is not only good with words but also with people. The problem, he has AIDS. Although, nobody around him knows it and he has kept it that way.
On being handed an important case, he manages to file the report, but because of some last minute mishaps it is misplaced and later found again, just in time for submission- the failure of which would have resulted in substantial loss to the firm. Following the mishap, Beckett is summoned to a board meeting which concludes in the firm terminating his employment on grounds of inefficiency and carelessness on the job, which Beckett is convinced are inconclusive and the real reason of his termination is due to the fact that he is HIV+.
On his termination Andrew is hell bent on proving that he was wronged by the law firm and needs a lawyer to represent him in court. At first (Denzel Washington) denies his request based on his own stigma on people with AIDS but on further realization agrees to represent him in court. The curtain closes with Denzel Washington winning the Beckett case and Tom Hanks (Andrew Beckett) finally giving in to the dreaded disease and dying.
Philadelphia projects the dreadful disease in all its reality. It showcases the social stigma HIV+ individuals face in their everyday life. Since the movie is shot in a 70s setting when the disease was just coming out of the closet, the movie showcases the ignorance, the indifference and low comprehension of the American society. The movie also exhibits the powerful emotions of the Homosexual society in terms of the discrimination which has become their social paradigm as such.
The screening surely and most definitely left a dent in everyone's psyche, creating awareness among the students and following up to a full-fledged discussion in class where students gave their opinions and notions on the social stigma still prevalent in the world.